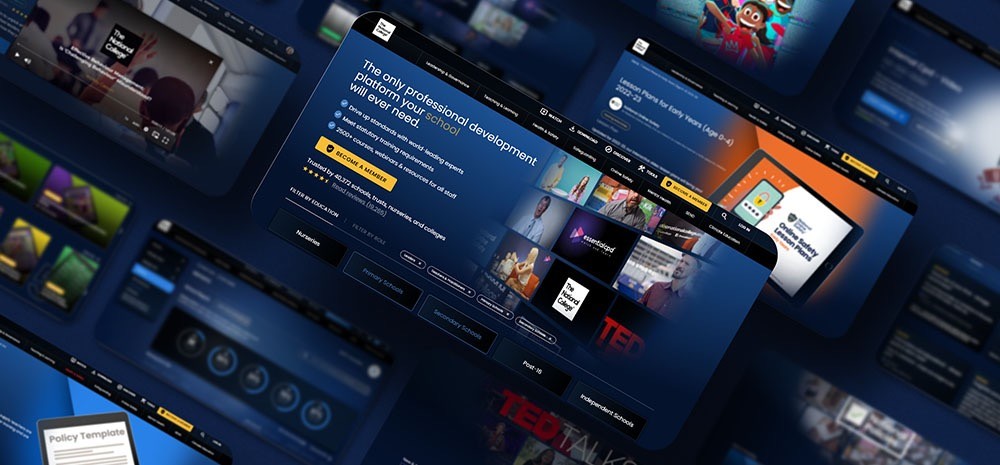 The National College Launches Brand-New Platform
The Only Professional Development Provider Nurseries, Schools, Colleges and Trusts Will Ever Need
We are excited to announce the launch of our new professional development platform, which brings both of our award-winning brands – The National College and National Online Safety – together in one online space to create the most comprehensive professional development programme on the market, designed and delivered by world-leading experts to help nurseries, schools, colleges and trusts drive up standards.

All in one place, you will now find over 2,500 high-quality webinars, courses, policy templates, guides, lesson plans and resources, helping you meet statutory training requirements and keep up to date with the latest education thinking, trends, government guidance, best practice and research. Our CPD covers all the hot topics: climate education and sustainability, health and safety, leadership and governance, mental health and wellbeing, online safety, safeguarding, teaching and learning, and SEND.

This content is delivered via a powerful learning management system which incorporates a host of features to make educators' lives that bit easier: a live feed enables users to keep track of government updates - and we launch webinars the same day that new initiatives and guidance are announced to help users quickly identify what they need to know and do in response. Advanced search and multi-level filtering of categories make it easy to retrieve resources by topic, phase, role, or to identify what is trending and most popular. Users have the opportunity to earn digital badges to evidence achievements, which can contribute to certification across the whole setting.

Users can also access a range of channels produced in partnership with some of the biggest names in education, including curated TED Talks for education, where they can gain inspiration from the world's greatest thinkers, leaders and teachers and learn new ideas and innovative ways of working.

We offer an unlimited plan which grants the whole workforce access to our wealth of expertise anywhere, anytime and on any device. This permits a shift away from top-down direction to a more autonomous and self-directed style of learning - a space where staff can explore our vast library, undertake CPD reflecting their role, responsibilities, interests and career aspirations, track progress, and download certification.

At the same time, our platform offers CPD management capability unlike anything else on the market. In a few clicks, senior leaders can roll out training programmes for individuals, groups, the whole school or trust, aligned with statutory requirements and strategic priorities. Leaders can also set deadlines, monitor progress, send reminders, ensure timely completion, and generate reports for internal and external stakeholders. Our dashboards make it easy to drill down for individual data or pan out for an overview of performance.

Leaders can also use our platform to upload and share internal CPD, and even build their own modular courses, complete with end-of-course assessment and certification. They can maintain a record of all training - undertaken both internally and with other external providers - and create a single source of truth for all activity across the whole school, setting or trust. Our platform also offers CPD impact reviews which leaders can use to direct their training strategy.

Educators can put to use this unique combination of content and capability in limitless ways: instantly roll out CPD for this or next academic year, for example, or create induction programmes for new starters, subject-specific interventions to raise attainment, statutory training programmes, training for Inset Days, personal development plans for staff appraisals … Our resources are completely flexible around user needs and can be easily incorporated into live training events with intervals for face-to-face discussion and collaboration.
The National College offers unrivalled value for money: for a subscription starting at £990 per annum, the whole workforce can gain unlimited access to training of a quality and breadth that simply would not be possible via other means. It also equips leaders with all the tools they need to efficiently plan, direct, record and report on CPD activity, and help improve outcomes.

Neil Gamewell, CEO at National Education Group, the parent company of The National College, commented: "The launch of our platform represents the latest landmark in our five-year history, during which we've brought on board some 650,000 users and over 40,000 education establishments. Our new platform builds on our previous successes, enhancing user experience with the familiar look and feel of a streaming service, and really takes the hassle out of professional development delivery and management with a unique offer for educators: one provider, one platform, one price."