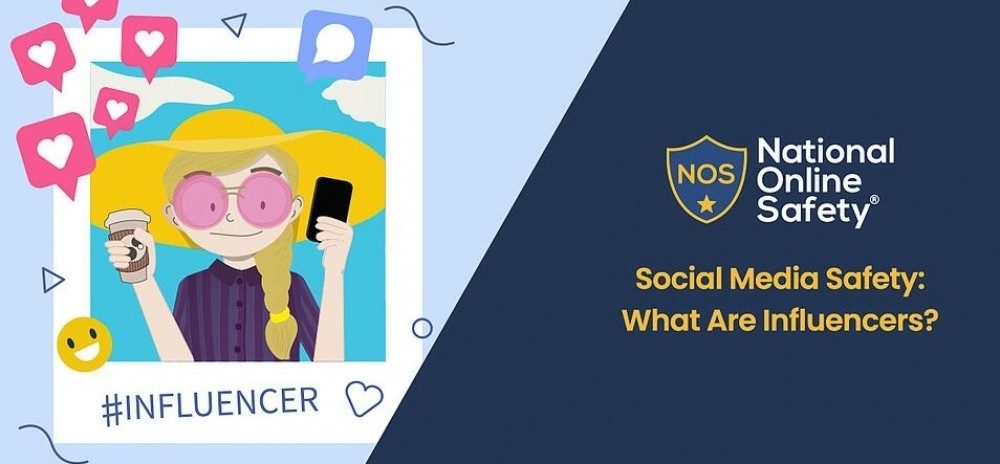 Social Media Safety: What Are Influencers?
Social Media Influencers, or 'Influencers' as they are commonly known, are the latest celebrity craze to take the world by storm. But by creating the image of a 'perfect life', or regularly promoting expensive products, these hugely popular people can cause detriment to a child's wellbeing. As such, the output of social media influencers should be consumed with caution.
For those who aren't active on social media, the concept can seem truly baffling. We've whipped up this quick guide to take you through the basics: what – or who – influencers are, how their influence can affect young people, and what you can do to address it.
What are influencers?
Individuals with large and loyal social media followings have become known as 'influencers'. In a similar vein to bloggers or vloggers, many of these people use their social platforms to talk about their daily lives, with subjects ranging from fashion and style to travel and even parenting. There are also gaming influencers, who spend extensive periods of time streaming and reviewing video games. As this article focuses mostly on lifestyle influencers, you can download our guide on gaming influencers here.
With so many fans tuning in to their content on a daily basis, these individuals have become a very powerful marketing tool for brands and businesses. Since its conception in 2016, influencer marketing has become incredibly popular, surpassing that of more traditional methods like print advertising. Importantly, these influencers are having an increased impact on children and young people. According to research by the Digital Marketing institute, 70% of teenagers trust influencers more than traditional celebrities.
What are the risks associated with influencers?
Ulterior motives
The primary risk facing young people is being persuaded to believe something their favourite influencers are telling them, when really they are being paid or they have an ulterior motive for sharing information.
This could lead to children spending money on a product, game or online service they don't necessarily need.
Unrealistic lifestyle
Another area of risk lies in the desire to become an influencer, as many young people view them as role models. Influencer lifestyles can seem attractive, but they can also portray a distorted version of reality. Their visibility online is 24/7, and these individuals often suffer online abuse and attract unwanted attention from others as a result.
Impact on self-worth
One of the main risks of influencers is the fact that they have the ability to create the image of a 'perfect life' through carefully-curated posts.
Many put up pictures and videos of their clothes, material possessions, or seemingly flawless selfies. However, these images – particularly those that depict the face or body - could be edited or filtered, and children who aspire to be like them could develop a sense of low self-esteem or self-worth if they can't achieve the same look.
To understand a bit more about how influencers can create social pressures for children and teenagers, check out our handy guide on the topic.
Extreme content
Influencers are at the mercy of the social media platforms they are on, and many must fight to remain popular.
Some have been banned or faced legal action from other content creators. To help them stand out, it is not uncommon for influencers to create more and more extreme content, which could be replicated by their younger following.
How can adults respond?
Look for the motive
Influencers should make it obvious when they're being paid to promote something online but it's not always clear. It's important to make sure young people understand that there may be a hidden agenda and that not everything someone says is true – try to encourage children to treat everything they see online with a good dose of scepticism.
Talk about Mental Health
If you notice a child has suddenly taken a strong interest in the way they look, or you find they are a lot more body conscious, then it's a good idea to speak to them about why they feel that way.
Our free introduction to Mental Health, hosted by children's charity advocate Myleene Klass, is a useful resource to help trusted adults begin to help children look after their wellbeing when they go online. For adults who want a more comprehensive understanding of the impact digital media has on children, we also have an expertly-informed webinar on the subject.
Discuss realistic vs unrealistic expectations
As a trusted adult, you should ensure that children are made aware of how unrealistic perceptions of life can be depicted on social media. Discuss how images can be heavily edited, cropped or manipulated to create artificial scenarios, and that often the lifestyle that people display on social media isn't always realistic or in fact the truth.
Encourage independent thinking
Social media influencers can be quite powerful individuals who hold a lot of persuasive power so it's important to encourage your child to think independently about everything they see and engage with online. Talk to them about the dangers of blindly following others and in keeping an open mind when viewing content.
Talk about role models
Role models can play an important part of a child's life, particularly outside of the home. As a trusted adult, it is important for you to maintain an open dialogue with who they look up to and why.
Be sure to remind them that not everybody online is who they seem to be, and if you do have concerns that a child is being negatively influenced, work with them in finding more positive alternatives.
For more information, check out out online safety guide that focuses on social pressures linked to influencers. Why not also check out our full range of online safety training courses and webinars.