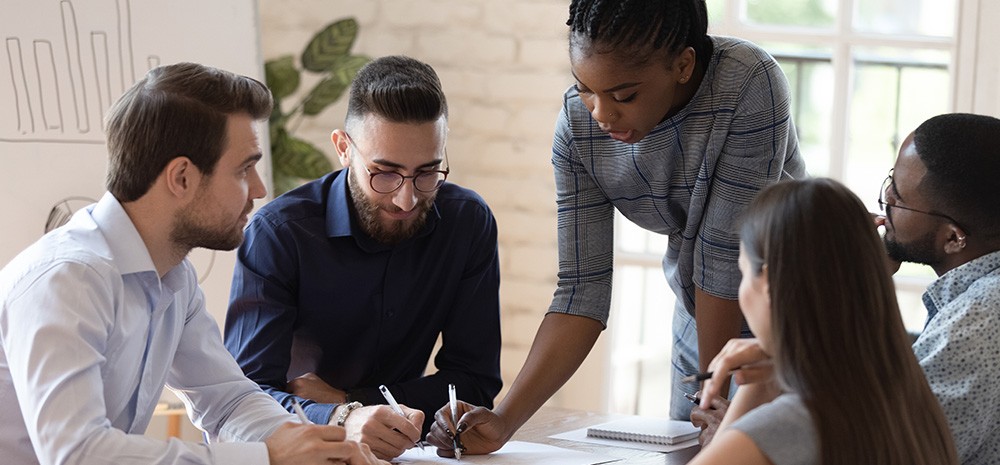 How to Get the Most out of Your Inset Days
INSET days offer a valuable opportunity to bring staff together to collaborate on school development goals. Leaders will want to ensure that the training that they invest in is authoritative and effective – underpinned by evidence and expertise and focused on raising pupil outcomes.

In this blog, we'll consider how to plan an effective INSET day and the value they bring to children's education.
How can I plan an effective INSET day?
Prepare before and after
To be effective, INSET days should be engaging, inspiring and relevant to the specific needs of your school, staff and students. As a result, it's a good idea to lay out your objectives for an INSET day in advance. Identifying one key area that you would like to help your staff develop in, in accordance with your whole school improvement plan, is a fantastic way to ensure that the focus of your next INSET day will be relevant and acutely focused on improving outcomes.
That's why with The National College, you can create watchlists and a deadline for staff to complete prior to the INSET day. That way the day can fully be about what it means for your school. Not only that, our platform gives you the ability to create watchlists and deadlines for staff to complete after the INSET day in order to keep the learning continuos.
CPD bespoke to staff needs
In addition, it's no secret that students learn better when they feel engaged and as though their learning has been tailored to them … and there's no reason that this would be any different for teaching staff! Creating an INSET day programme is an opportunity for leaders to promote a culture of inclusivity, show staff that they value individuals' personal development, and demonstrate that they listen to the thoughts and insight provided by those under them.
For that reason, our platform gives you the ability to create, upload and share your own bespoke training reflective of your staff's needs. You can then create tailored watchlists which include your own CPD and CPD from our huge library of webinars, courses and resources - giving you the best of both worlds.
Reflective practice
Perhaps one of the most important steps towards ensuring the effectiveness of an INSET day is putting in place reflective measures to review its impact. Without being able to set a benchmark or gather insight into what difference CPD is making, it can be difficult to ascertain the relevance of INSET days.
That's why our platform provides the ability to set impact reviews, so that leaders can record how impactful INSET days can be on day-to-day practice.
To find out more about The National College can meet all your training needs around INSET days, book a meeting with one of our consultants at a time that suits you the most
-----------------
Below are other common questions we often get asked about INSET days.
What is an INSET day?
INSET days, otherwise known as training days, are days in which schools are closed to pupils, with teaching staff instead either receiving CPD through the form of webinars and workshops or being allocated time in which to complete administrative tasks. INSET stands for 'In-Service Education and Training, and these days can be taken on any of the 195 days which make up the normal academic year for schools in United Kingdom.
What happens on an INSET day and the format of any teacher CPD is at the discretion of senior leaders, and this may change depending on the time of year, recent developments and whether there have been any significant changes to DfE guidance or expectations.
How many INSET days do schools have per year?
Leaders can set up to five compulsory INSET days per year, given that of the 195 possible school days per year, schools must be open for 190 of them. This number does not include snow days and other unexpected closures. Technically, schools can host INSET days on any day in the school calendar; however, it is more common for INSET days to coincide with the start of term following school holidays, thus minimising disruption for parents while providing staff with renewed focus and skills with which to approach the new term.
Do teaching assistants have to work INSET days?
INSET days only occur during term time, so teaching assistants will be expected to attend if the day is held during their usual working schedule. Provision for training for part-time staff may be organised out of normal school hours to accommodate their rotas.
Quality CPD for teaching assistants should, as is the case with CPD for all staff, look to increase their knowledge, skillset and confidence, while aiming to improve outcomes for pupils. While teaching assistants will no doubt need to attend CPD sessions which address statutory expectations for the whole setting, there are many topics specific to their role that teaching assistants can engage in professional development for.
For example, this webinar on providing high quality one-to-one interventions, provides teaching assistants with practical advice and guidance around delivering evidence-based interventions to help impact pupil attainment. Meanwhile, for teaching assistants in early years settings, this webinar highlights strategies and resources to help them fulfil their important role in supporting children's development, in line with DfE's reformed Early Years Foundation Stage (EYFS) Framework and supportive curriculum guidance.
What do teachers do on INSET days?
INSET days provide an opportunity for teaching staff to learn new skills, brush up on their existing knowledge and focus on key areas of development to help them promote learning and improve outcomes for their pupils. That said, the types of training they engage in could vary, as could the specific topics.
For teachers, CPD can take many forms, however, more and more schools are choosing an online CPD provider, such as The National College, due to being able to access professional development resources whenever they wish.