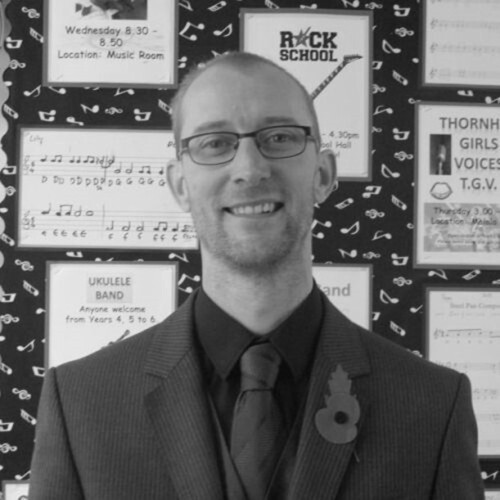 Peter Simons
Peter has been working for Focus-Trust as Director of Music at Thornhill J and I School, Boothroyd Primary Academy and Manor Green Primary Academy since September 2016. His role allows him to work in other schools within the trust, advising and supporting with the music curriculum and the teaching and learning of music.
Having gained his teaching qualification via the GTP (Graduate Teaching Programme) in 2011, Peter worked for 5 years as a Year 5/6 teacher. In 2019 Peter was awarded the Primary School Teacher of the Year Award Silver from Pearson's for his passion and drive in delivering musical education. Since then, he has published numerous articles for the Teach Primary Magazine and TES, as well as delivering several webinars for the National College, and speaking at conferences.
Peter gained a Master's in Music from Huddersfield University in 2004. From 2001 to 2010, Peter worked for the local music service (Kirklees Music School – now Musica Kirklees) delivering high- quality, whole-class music instrumental lessons, whole-school singing sessions, and individual and small-group lessons to children and adults, working his way up in the organisation to leading a music centre.
Peter has undertaken a wide range of other relevant roles, including: the Hub Advisory Board for the West Yorkshire Area; Treasurer and Leader, Kirklees Primary Music Festival; conductor, composer and arranger performing all over the country including the Albert Hall in November 2022 with the Youth String Orchestra; guest speaker for the Huddersfield Music Conference – 2019 and 2023; ECT mentor; SLT in charge of culture and ethos; Leader, Slaithwaite Philharmonic Orchestra 2009 – 2012; Conductor, Mensa Orchestra 2004 – 2007; Director of Unity Voices 2001 – 2010; Director of Musica Youth Strings 2018 – present.