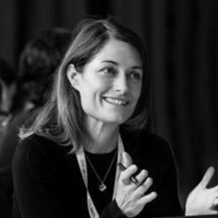 Emma Carralón
Emma Carralón has been the Head of e-Learning at The British School of Paris since 2012. In her role, she's responsible for digital teaching and learning and has developed the school's digital curriculum to ensure that digital technology is enabling all pupils to have the skills they need for today's world.
The British School of Paris were pioneers of EdTech, and Emma supported the IT Department in her role as Head of e-Learning in rolling out the school's innovative iPad scheme to students. She also developed the school's peer mentor scheme in her previous role within the school as Head of Learning Technology. Emma also serves as chair of the ICT Committee, shaping the school's digital strategy and producing digital competency frameworks to raise attainment and achievement throughout the school.
Before working at The British School of Paris, Emma taught in London, Kent, Japan, and El Salvador, where she worked as an NGO. She also trained to become an Internet Safety Ambassador for CEOP.